It might not come as a surprise, but I have yet another literary love: poetry. I'm obsessed. It's all I want to write.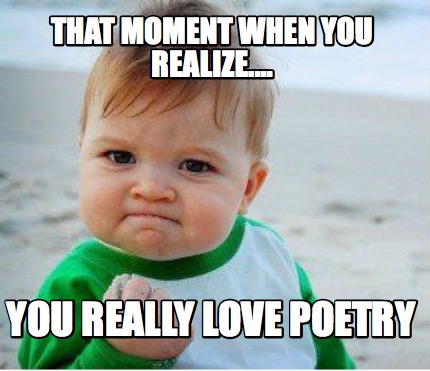 This semester, I hesitantly enrolled in Jay Hopler's poetry workshop. I was nervous about signing up because 1) I know nothing about poetry and 2) Jay is a renowned and accomplished poet. In fact, his poetry collection,

The Abridged History of Rainfall

, was recently nominated for a National Book Award.
Workshop classes are different from a craft class where we learn HOW to do the thing, whether it be nonfiction essay, short stories, or comics. The purpose of workshop is to learn by producing work, sharing it with your peers, and giving feedback. Before we even had our first class meeting, I was expected to write a (decent) poem and send it to my classmates and professor. Yikes!
But I must say that we're 2 months into the semester and my intimidation has been replaced with elation. I find that all I want to do is write poetry. Forget my novel, my memoir, etc. Poetry is where it's at.
Paul Mundoon on poetry:
I'm interested in revelation, in what will be revealed through the poem, through me — not what I have to reveal, but what it has to reveal, if that makes any sense. So I have no revelations at all. I know nothing. I'm not to be trusted on anything.
But the poem may know something, and may be trusted, actually, on what it has to express in the world, in my practice.
My friend, the poet Sarah Duffy, was surprised by my enthusiasm when I gushed to her about my newfound love of poetry. She graduated from my MFA program last year and she's barely touched poetry since. Hopefully, it won't be a permanent hiatus-just a necessary recovery period after three tough years of writing boot camp.
I can relate to Sarah's burnt out feelings towards poetry, except mine are directed towards prose. I'm in my 3rd graduate creative nonfiction seminar and my brain is saturated with so much how-to information, so many experts giving their two cents, so many voices saying what's right and what's wrong.
On the other hand, when it comes to poetry, I'm totally green. My relationship to the craft is uncomplicated—but also naïve. I have no idea what's right or wrong, so I'm just having fun on the page. Also, I've never identified as a poet so the stakes are lower. Poetry is not my niche, it's just a class I'm taking to make my writing stronger overall. In a way, this takes the pressure off and allows me to create freely.
I'm not sure how long my romance with poetry will last, nor do I know if this kind of naïve love is sustainable. But my new crush has me thinking about my relationship with poetry over time—and it turns out that I'm not really a stranger to it. Sure, when it comes to writing it, I'm a newbie. But in terms of appreciating the form, poetry has been in my life for many years. My Cuban grandfather recited

José Martí

poems at the dinner table, and my French teachers forced us to memorize poems by Jacques

Prévert

and recite them to the class on a weekly basis.
These memories make me wonder—why isn't poetry more of a staple in American culture? In Cuba, my mother spent every Saturday morning in la clase de declamacion where the students learned to recite poems by heart. Poetry recitation is fundamental to European curriculums. But in the States, I don't remember ever being introduced to poetry until high school.
I was listening to an On Being interview with New Yorker poetry editor Paul Mundoon and he made the point that, in this country, we give children "children" poetry, rather than the big kid stuff.
"What passes for poetry tends to end up as merely Dr. Seuss. Now, I love Dr. Seuss. I think he's fabulous. I think he's fabulous. But if you ask an eight-year-old to write a poem, she'll come up with the tadpoles. You ask a 15-year-old to write a poem, and it's sort of sub-sub-sub-Seuss.

But my own view is that children should be — insofar as we have any control over them at all, and of course, as parents, we know we have less and less, as it should be — but in some sense, I think we should be introducing them to Robert Frost, and Lord Byron, and Tennyson, and Marianne Moore, and Elizabeth Bishop, and Emily Dickinson, and John Donne. We should be giving them not, quote-unquote, children's poetry, but poetry."
So why not give kids the big kid stuff right off the bat? I didn't understand what all those poems my grandfather recited where all about, but I understood that language was beautiful, and that poetry is a living, breathing thing.
Poetry should be taken out of the dusty books and into our dining rooms and classrooms. It's meant to be listened to—like music—not read. It's meant to be shared, like the way our ancestors used to share stories around a fire.
I was expressing this to my farmer friend and the chair of the Religious Studies department, Dell deChant, and he broke out into beautiful recitations of Yeats and other fantastic poets. He says that poetry was a big part of life in his childhood home, but he also acknowledges that he was on the cusp of the generation that still learned poetry in America.
I've gone ahead and printed a few of the poems that my grandfather used to recite with such robust energy, and I'm going to do my best to learn them. My heart already knows them, but I'd like to memorize them so that I can share them with my own grandchildren one day (and with Dell!).
Do you have poetry in your life?
One way you can introduce poetry into your life is by listening to poetry podcasts. Some of my favorites are The New Yorker Poetry podcast, The Poetry Society, Poems Out Loud, much poetry here, and Poetry Spoken Here. I'm sure there are tons more out there.
Feel free to leave me a message telling me what poetry means to you, and how you keep it alive in your life.